What is ESG? The 7 Steps Model
Jeffrey Saunders
·
2 minute read
There has been a growing emphasis on environmental, social, and governance (ESG) considerations across industries; facility management is no exception. More and more businesses recognize the importance of integrating ESG considerations into their operations. A recent study by Deloitte shows that 89 percent of surveyed experts are integrating ESG considerations into their operations, and 61 percent seek external assurance for their ESG statements.
We'll discuss what ESG means for the facility management industry and provide seven steps for integrating ESG into FM processes and operations. ESG within the FM context requires asking oneself the following questions:
E - Environmental: Does your organization minimize the impact of its activities on nature and its surroundings? Delivering on E requires tackling challenges like waste reduction, energy efficiency, water conservation, emissions reduction, green building design and operations, climate risk mitigation, and biodiversity protection.
S - Social: Does your organization improve its interactions with its workforce and the broader community? Delivering on S requires focusing on occupational health and safety, good occupant health, employee welfare, community engagement and impact, and diversity and inclusion.
G - Governance: Does your organization focus on decision-making processes, report on activities, and ensure ethical behavior? Fulfilling the G component of ESG necessitates ethics and transparency, risk management, and stakeholder engagement.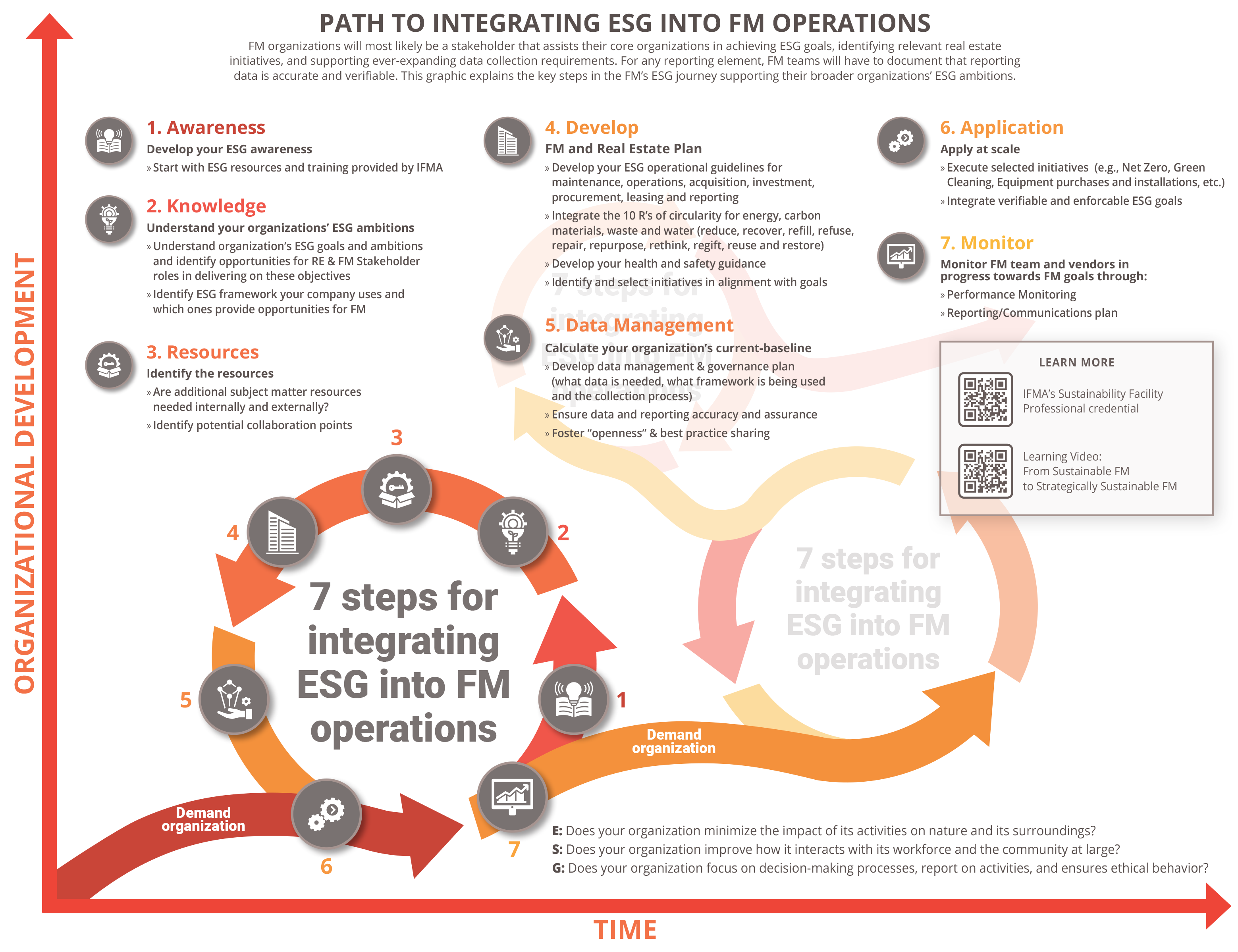 To integrate ESG within FM operations and processes, we have proposed the following seven steps:
Awareness: Facility managers need to be aware of ESG considerations and their importance. You can start with ESG resources and training IFMA offers, including IFMA's Sustainability Facility Professional certification and educational video on ESG. Facility managers should be familiar with the issues under E, S, & G and how they relate to their organization's operations.
Knowledge: Once facility managers are aware of ESG considerations, they need to develop a deeper understanding of their organization's ESG goals and ambitions. FM'ers should identify the ESG framework your company uses and which ones provide opportunities for FM. For inspiration, see IFMA's Building Decarbonization Resources page.
Resources: Integrating ESG into FM processes may require additional help from inside or outside the organization, such as technology, training, or personnel. Facility managers should assess what resources are needed and develop a plan for obtaining or collaborating with entities that possess them.
Develop: Once facility managers have the necessary knowledge and resources, they can begin developing an ESG strategy within their FM and Real Estate plan for their organization. This may involve setting goals and targets related to ESG factors, identifying key stakeholders, and developing an implementation plan, including communication.
Data management: To effectively integrate ESG into FM processes, facility managers need to have access to relevant data and should foster openness and transparency. This may include energy usage data, waste management data, or data related to labor practices. Facility managers should establish systems for collecting, assessing accuracy and assurance, and analyzing this data.
Application: Once a plan for integrating ESG into FM processes has been developed, it's time to put it into action at scale through verifiable and enforceable ESG goals. This may involve implementing new technologies, training personnel, or changing operational procedures.
Monitor: Finally, facility managers should regularly monitor and evaluate their ESG performance to ensure they meet goals and targets. This may involve conducting regular audits, collecting feedback from stakeholders, or using performance metrics to track progress.
In conclusion, integrating ESG considerations into FM processes is becoming increasingly important for organizations across industries. By following these seven steps, facility managers can develop an effective ESG strategy that aligns with their organization's values and priorities.
Editor's Note: This blog was cowritten by Jeffrey Saunders, Dean Stanberry and Colette Temmink. Jeffrey Saunders is CEO of Nordic Foresight and director of research at IFMA. Dean Stanberry is first vice chair of IFMA's Global Board of Directors. Colette Temmink is COO, Commercial Division at Lessen + SMS Assist.
Want more ESG resources?