Awards of Excellence winners drive innovation in facility management
Katherine Sproles
·
1 minute read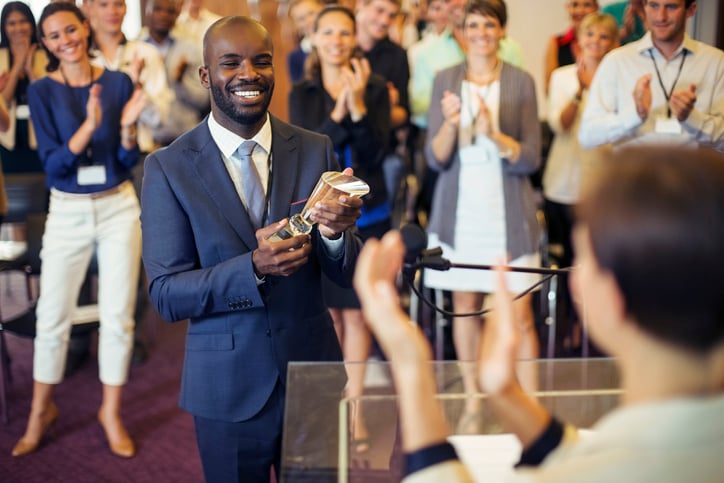 "We recognize those who are breaking new ground for our industry. We recognize the individuals and teams who are bringing even greater value to our association. We recognize the companies equipping FM with innovations that will lead us into the future. The award recipients reflect our profession's range of expertise, as well as our global perspective and influence. They represent IFMA and FM on the world stage, demonstrating that ours is a community that views connection, cooperation, understanding and support between nations, industries and people as essential to making the world a better place."
-Thomas L. Mitchell, Jr., CFM, IFMA Fellow, past IFMA Board Chair (2009-10) when presenting the 2022 Awards
Get recognized for your contributions to facility management! IFMA is now accepting nominations and applications for the 2023 Awards of Excellence. The awards will be presented at IFMA's World Workplace in Denver, September 27-29, to honor those who have made exceptional contributions to the advancement of the FM profession and the association.
Need inspiration? Hear from the 2022 winners.
2023 Award submissions are due Thursday, June 30, 2023 for all awards, except the first nomination phase for the Innovation Award which is due April 28.
Named Awards
The George Graves Award for Facility Management Achievement
The Sheila Sheridan Award for Sustainable Facility Operations and Management
The Facility Management Innovation Award - Phase 1 applications are due Friday, April 28, 2023
Member Awards
Associate Member
Distinguished Member
Educator Member
Emerging Professional
Distinguished Author Awards
Article or Research Paper
Book or Instructional Material
Web Based/Social Media
Chapter Awards
Excellence in Professional Development
Government Affairs
Chapter of the Year
Web Communication
Student Chapter of the Year
Council or Community Awards
Excellence in Communications
Excellence in Programs and Professional Development
Council or Community of the Year
Interested in participating in the judging process? Let us know! Please include any preferences of which category to judge. If you do not have a preference, you will be randomly assigned to a category.