Strengthen Connectivity and Cultivate Comfort Through Workplace Design
Derrell Jackson
·
3 minute read
Despite the unmovable work-from-home trend sparked by the pandemic, the need for in-person workplaces remains here to stay. Workplace arrangements are, at least for now, truly hybrid. The convenience and comfort employees experience while working at home is integral in modern work-life wellness. But it's also evident, now that the pandemic dust is settling, that engagement and energy found in the office are irreplaceable elements of a successful business. Set your workplace up for success by understanding the new office design needs for our new normal.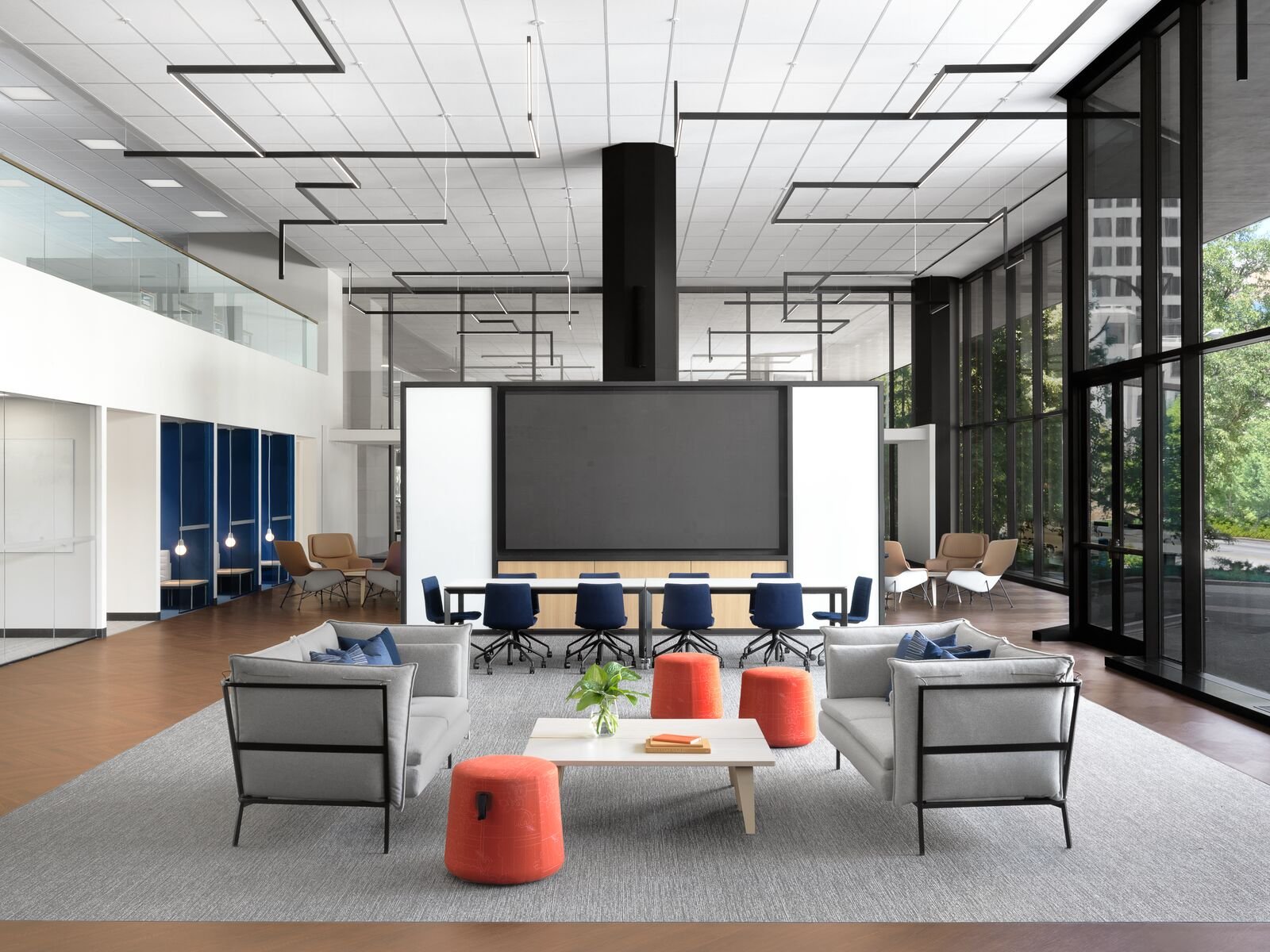 A variety of seating options at Spire in Chicago, Illinois helps the space feel more like a residential setting while giving employees options for collaborative or focused work. Photo credit: Alise O'Brien
Since employees became empowered with flexibility, they've also shared more over the past few years about what they need from their workplace. A computer and Wi-Fi are enough to get the job done, but employees expect more from their workplaces. Motivation, concentration, and connection are all in demand for folks returning to in-person work. Ryan Anderson, the VP of Global Research & Insights at MillerKnoll explains, "Employees are seeking a workplace that supports more than simply doing task work at a desk. On one hand, they're seeking to reconnect with teammates. On the other hand, they seek places to do focused individual work—free from the distractions of home."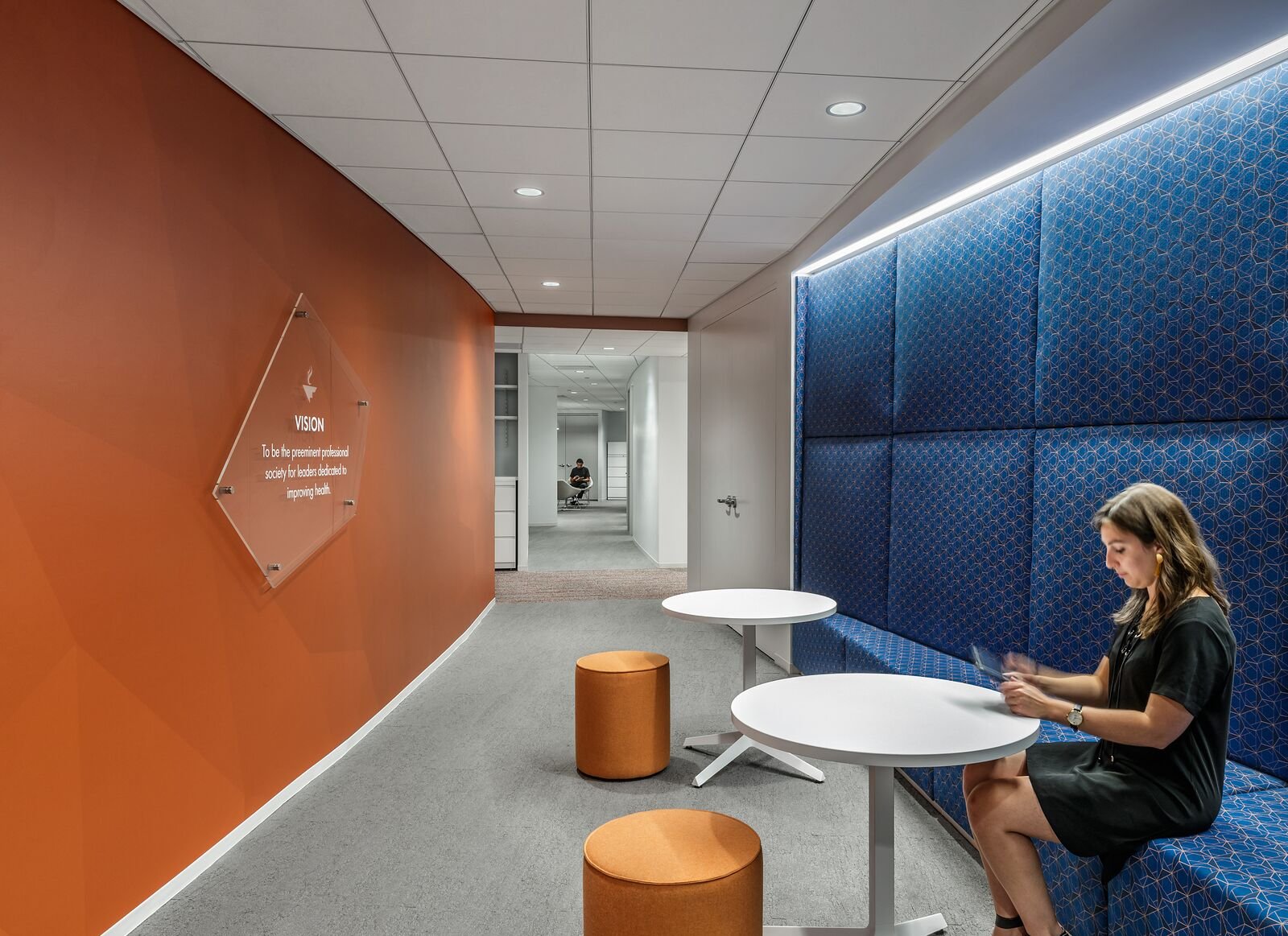 Corridors double as workspaces when employees need time away from their desks at ACHE in southern California. Photo credit: Mark Ballogg
For an office to meet the needs of its modern employees, facility managers must create spaces where people want to work—not just where they have to work. You will be better able to maintain and support workspaces by focusing on how employees work best, in addition to where that work is done.
Successful workplace design today takes the best parts of working from home and moves them into the office. What makes working at home so comfortable? For one: control. The ability to adapt a workspace throughout the day boosts motivation and productivity. Additionally, a workspace is an opportunity to pair a company's personality with functionality. Facility managers can impart design choices within the office that work to connect employees, as well as support space maintenance.
An office that is as comfortable and functional may include:
Height-adjustable desks allow employees to get up and stretch their legs throughout the day. Ergonomic desk chairs that can adjust to each employee's body are also essential for workplace wellness.
Nothing says this is your space quite like furniture made to be moved. Incorporating conference room furniture that can adapt easily for a brainstorming session welcomes creativity and supports employee agency.
Oversized whiteboards for all the ideas. Hallway pinboards where updates, photographs and randomness can reign. Plants not-so-subtly symbolize the beauty of growth. Office life should emphasize just that—life.
Glass walls and doors pair privacy with approachability. Natural light curbs fatigue. And to combat all that time spent cooped up inside—outdoor workspaces encourage relaxation and flexibility. Openable windows and picnic table workstations make coming into the office a breeze.
An energetic workspace mirrors the company within it. Design choices should strategically reflect who works in that space as much as it facilitates the work being done. Facilities that personalize company culture through design help cultivate the office community and sense of belonging for employees.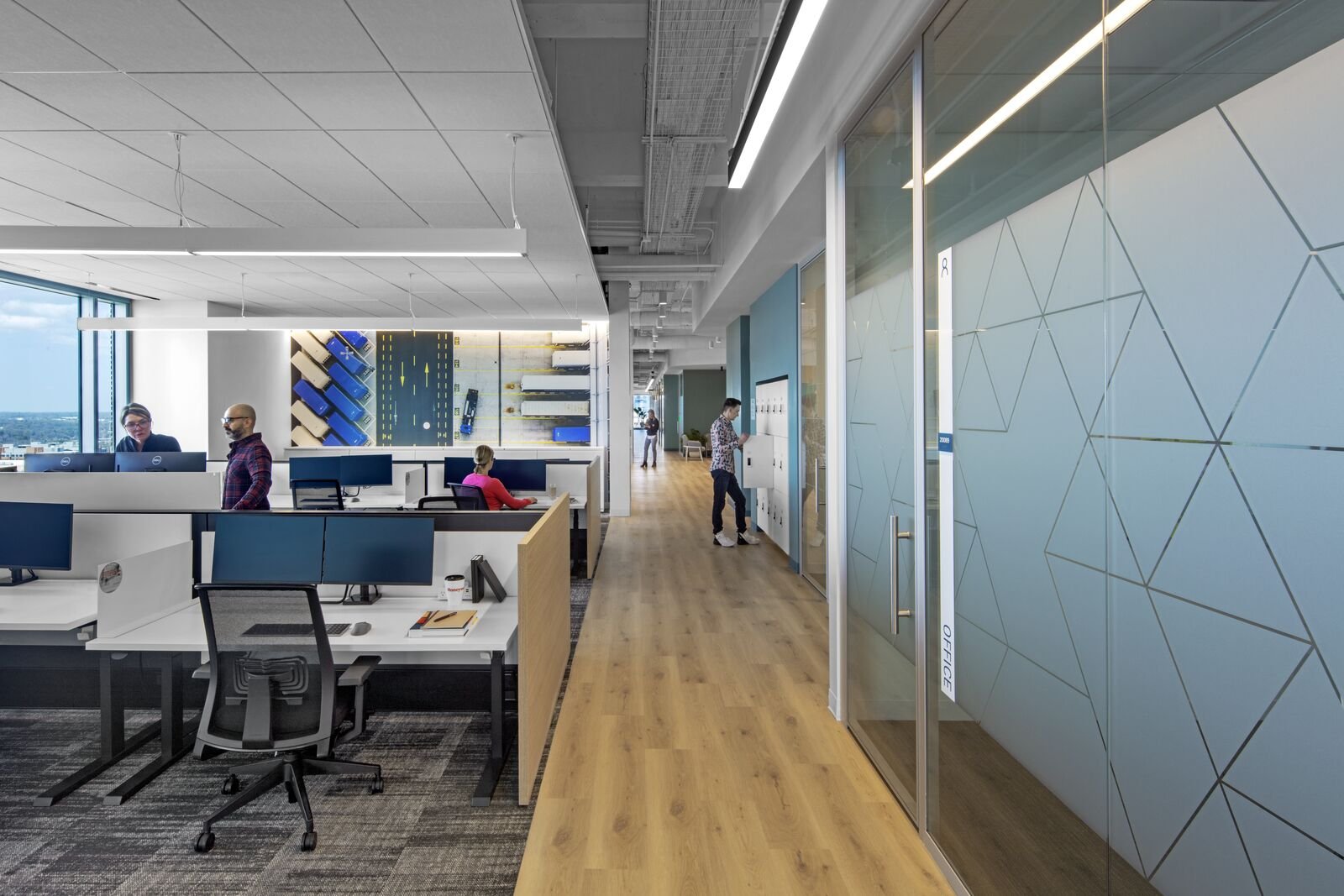 The abundance of natural light and use of glass adds creative energy to the new Honeywell headquarters in Charlotte, North Carolina. Photo credit: Eric Laignel
Ultimately, a physical office space creates an opportunity to strengthen connectivity and employee engagement. Omoleye Simmons, VP of Design at Tarkett, shares, "Facilitating a workspace that promotes good vibes all around, invites employees to engage with their company on a deeper level."
It's more than coming to work—a workplace is for coming together. When the design of an office empowers employees to work how they want, it will become a place where they want to be. Feel inspired to get creative while sustaining a workplace that facilities creativity, collaboration and connection.
Editor's Note: This blog is in collaboration with IFMA's Corporate Sustaining Partner, Tarkett. As the director of workplace segment markets for Tarkett North America, Derrell leads the organization's strategic planning for market growth in corporate offices, life sciences and multi-family projects. He believes collaboration is the key to any organization's success and is passionate about supporting Tarkett customers with the research and design strategies needed for evolving the future of workplace environments.