Create, lead and implement transformation with IFMA's Workplace Evolutionaries
Katherine Sproles
·
1 minute read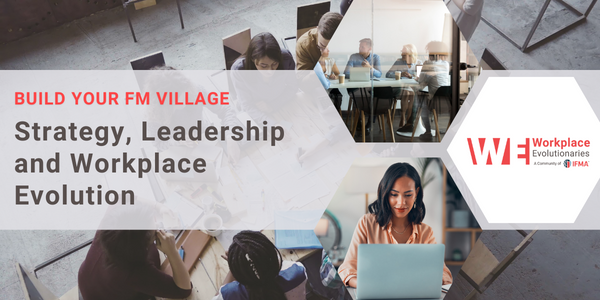 Now, more than ever is a great time to connect, grow and innovate - and IFMA's global community can empower you to create, lead and implement workplace transformation.  The Workplace Evolutionaries (WE) Community has the network and resources to help you influence the evolution of the workplace through research and reaching outside our industry.
Evolutionaries are people who help make change happen—who lead systems, companies, industries, communities and nations through transformative change. WE is the world's largest community of thought-leaders focused on supporting effectiveness through workplace transformation with reach to 33 countries worldwide. WE supports FMs through knowledge sharing, professional development and networking by enabling organizations to support a happy, healthy workforce while driving business results. You can learn more by participating in an upcoming WE program.
Build an inclusive and diverse global community
WE Events connect you with thought leaders and will keep you up-to-date as the workplace evolves. WE is participating in World Workplace Europe and is hosting an event prior to IFMA's Facility Fusion in San Francisco. Join us for lively, interactive discussions on the future state of work at the WE Mosh Pit on Monday, April 10, 2-5 PM PDT. The event is free, but RSVPs are required.
Create interactive learning and networking events
WE is dedicated to providing research, news, case studies, Webinars, social media and more in order to expand the collective workplace consciousness.
Unlock your potential as a workplace leader with the

Workplace Strategy and Leadership Program

. This is your chance to elevate your skills and gain new insights to navigate the dynamic hybrid and work-from-anywhere landscape. The program will help you transform your workplace into a strategic asset and while learning how to coordinate the disciplines and infrastructure needed to maximize its potential.

A new session starts in April.

Learn more

and

Register today
Sharing knowledge and research
WE has a strong commitment to sharing information and on supporting critical workplace research such as Work on the Move 1,2 & 3 and IFMA's Expert Assessment. In addition, WE has formed Friends and Partners of WE to engage cross-disciplinary thought leaders and leverage other great workplace organizations.
IFMA members can join by adding WE to their membership.  Not an IFMA member? Join IFMA and select the WE Community.