The Future is Flexible: Navigating Flex Workplaces
Derrell Jackson
·
3 minute read
For facility managers, office jargon has an important buzzword lately: flexible. Flexible offices provide on-site accommodations in different ways, times and places. While remote work remains an option for many employees, the office flagship isn't going anywhere yet. How the office is used, though—and where it's located—is shifting. And as the rise of flex work continues, facility managers must flex their space organization and management muscles.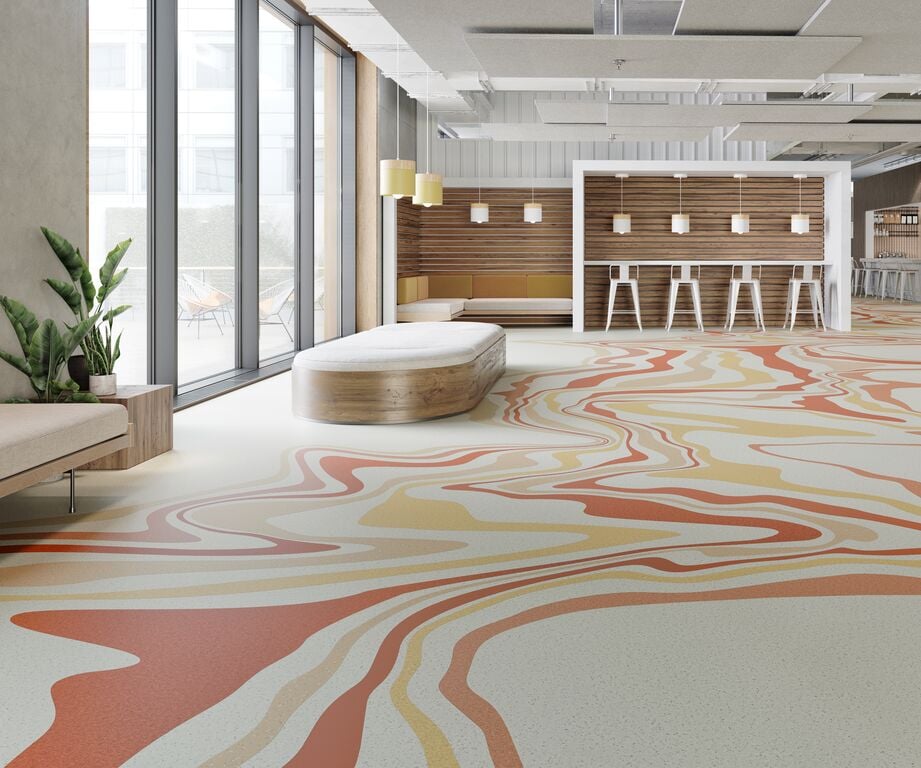 A variety of focused and collaborative workspaces—both indoors and out—offer flexibility and create a functional "Third Place."
The workforce isn't relinquishing its hold on remote work as an option, but trends from recent years show that employees still benefit from and desire to have some time in the office. For connection, collaboration, focus and freedom—the office is its own professional lighthouse. But daily commutes, 40+ hours at desks, and lack of work-life balance lead decision-makers to rethink what purpose their office serves and how its benefits may be optimized.
The solution for many companies is a flexible workspace. One where employees can convene in person—when needed or desired—in a space that offers similar comforts and amenities as home offices. From soft seating to fridges stocked with LaCroix sparkling water, offices are more comfortable than ever, even though they're being used less. And while physical offices are now occupied less often, facility managers still have a valuable and influential role in their organizations. Now is the time to rethink how offices are maintained and incorporate modern strategies that suit flexible workspaces.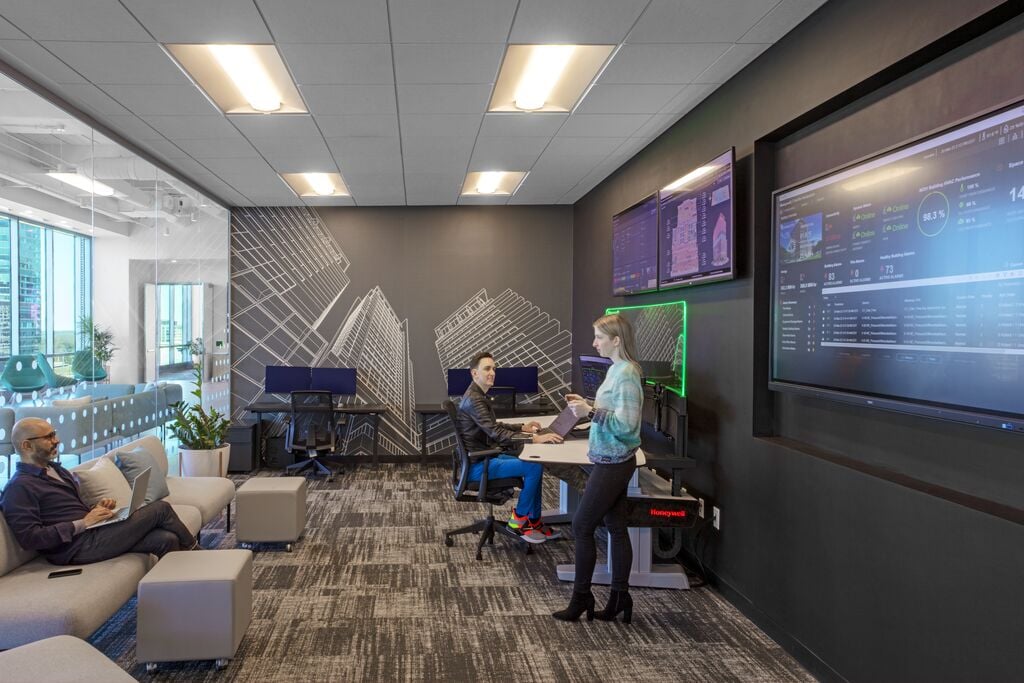 Flexible workspaces at Honeywell offer hotel desking, comfortable seating and all the required technology for effective collaboration. Photo credit: Eric Laignel
There are two notable ways offices are becoming more flexible. Firstly, location. Satellite locations closer to employees and key markets expand a company's reach toward customers and talent. Secondly, shared offices provide flexibility when it comes to hybrid occupation. Shared office spaces are available for multiple community members to use simultaneously. Since connection is a primary benefit of in-person workspaces, it's fitting that new office organization welcomes a variety of users.
Corinne Murray, founder of Agate Studio, lends her expertise and insight to the discussion of flexible workspaces. Flex offices that accommodate both company employees and community members are a critical feature of workplace evolution.
"Creating spaces for folks from the local community, in addition to tenants and employees, is a net benefit because it creates a Third Place," Murray notes. "Public spaces are versatile and meaningful for communities and can offer working spaces for those who might not have access to a traditional office, like entrepreneurs, students and families. They also can serve as a social hub, with the help of social programming and events to bring people together in ways that matter to them."
Facility managers have the important job of maintaining and helping create these flexible workplaces. Adaptable furniture, variable workspaces, and private and community rooms are part of the diverse functionality of flex offices. Murray speaks to one critical feature that facility managers can implement that improves flex and shared workplaces:
"Do not underestimate the importance of sound dampening, quiet rooms and phone booths! The average knowledge worker's day consists of meetings with people on virtual platforms. Be sure to create spaces where those meetings can be taken and provide spaces dedicated to deep focus and low distractions (visual and sonic alike)."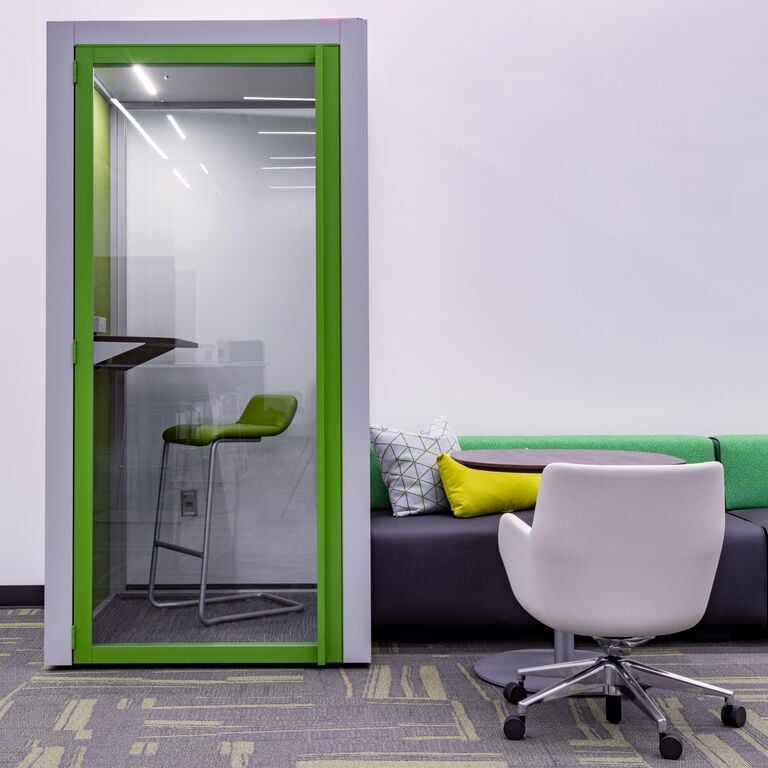 Phone booths add a great deal of function without sacrificing large amounts of floor space.
For companies expanding by launching satellite offices, Murray says, "Every company with multiple sites benefits from creating a workplace programming strategy encompassing their HQ workplaces and field workplaces. Highlighting the experiences and offerings that are ubiquitous helps employees understand what resources they can rely upon regardless of where they go."
So, as we've seen, even though offices may be smaller in size and no longer staffed full-time, they are as important to connectedness and productivity as ever.
As facility managers know, adaptability in the workplace is key for successful flow and functionality of an office. That makes them highly prepared and well-suited to lead modern workers into this new age of office spaces. Whether for coming together part-time, sharing space with other professionals, and/or offering an in-person respite from remote work—a flex office is as dynamic as the jobs it hosts.
Editor's Note: This blog is in collaboration with IFMA's Corporate Sustaining Partner, Tarkett. As the director of workplace segment markets for Tarkett North America, Derrell leads the organization's strategic planning for market growth in corporate offices, life sciences and multi-family projects. He believes collaboration is the key to any organization's success and is passionate about supporting Tarkett customers with the research and design strategies needed for evolving the future of workplace environments.