FMP or CFM? A Quick Guide
Deciding between two of IFMA's most popular credentials? Let's take a look at the differences.
1.
The CFM requires 3 to 5 years of experience in the facility management field for you to apply to take the exam.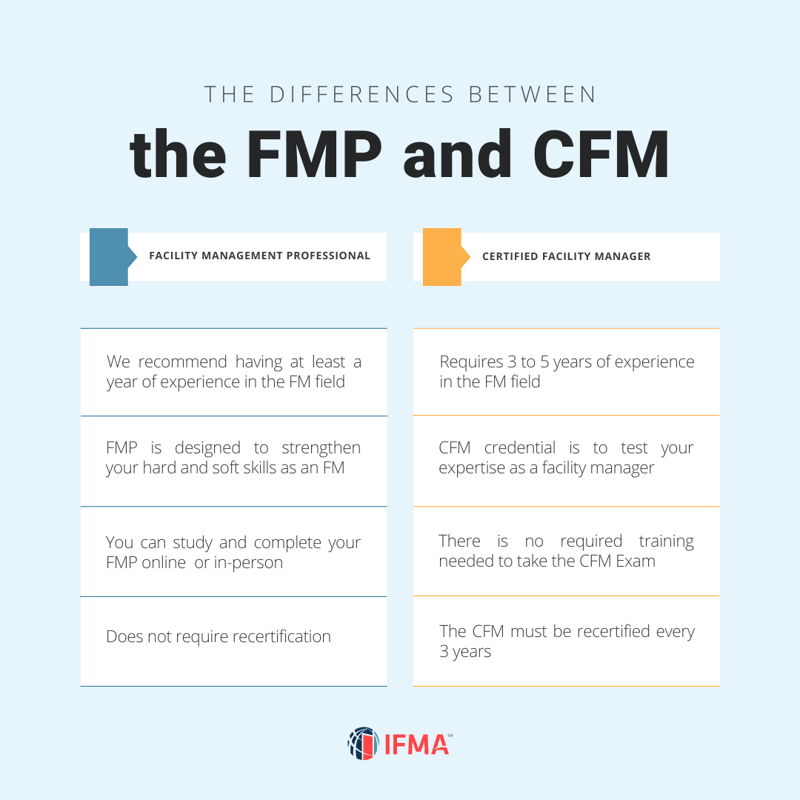 We require those applying for the CFM exam to have at least 3 years of FM experience if they have a bachelor's or master's degree in FM. If you have 5 years of experience as a facility manager, no degree is required for you to complete your CFM exam. For the FMP, we suggest practitioners have at least a year of experience in the field.
2.

The goal of the FMP is to help build and develop your facility management knowledge

in the foundational 4 competencies of the facility management body of knowledge: finance and business, operations and maintenance, leadership and strategy and project management.
While the goal of the CFM credential is to test your expertise as a facility manager, the FMP is a knowledge-based program designed to strengthen your hard and soft skills as an FM. With this credential, you will learn best practices to run your facility more effectively and increase your team's productivity. After completing your FMP, you will feel confident implementing real-world solutions in your facility that make a big impact on your organization.
3.

The CFM tests your knowledge of the built environment.
This credential showcases your mastery of all 11 globally recognized core competencies in the built environment.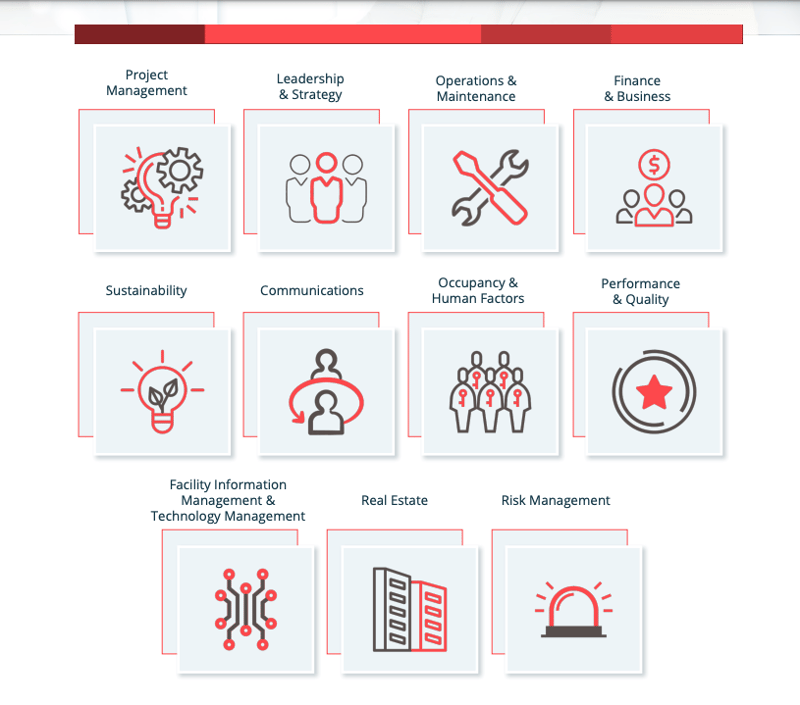 4.

You can study and

complete

your FMP online.
We offer courses for the FMP in a variety of formats including online, self-paced study, and in-person via IFMA's Education Training Affiliates.
To complete the FMP program, the student must pass the final assessment online at the end of each competency course (4 in total).
5. There is no online or in-person training needed to take the CFM Exam.
The candidate only needs to meet the eligibility requirements to apply for the CFM Exam. IFMA does provide online and classroom courses within the 11 competencies to help a candidate prepare for the CFM Exam but it is not mandatory.
To attain the CFM Certification, the candidate must schedule their exam at an approved Prometric testing center (available globally). IFMA also offers proctored exams virtually after the candidate has met the requirements.
6.

The CFM must be recertified every 3 years.
To keep your credential in good standing, you must complete maintenance activities for your CFM credential and report them to IFMA. The FMP is a life-long professional credential and does not require recertification or maintenance activities to keep your certification.
Not sure about either of these credentials?
Use IFMA's Self-Assessment Tool to identify your strengths and weaknesses across the FM knowledge base. This tool will help guide you on what areas we can help you upskill your training. Whether it's an industry credential or individual courses, we've got you covered.
*Please Note: Materials offered by IFMA to prepare for the CFM Exam, such as the CFM Exam Prep Workshop and CFM practice exams, are optional study resources and are not a requirement of eligibility, nor are they endorsed by the IFMA Certification Commission.